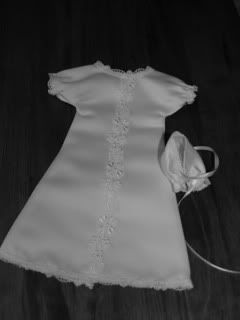 I just realized that most of you have not seen the gorgeous little dress that was handmade from someone's cherished wedding gown in which we buried Mary Grace. It was made by a volunteer from the Mary Madeline Project www.marymadelineproject.org an organization that takes these donated wedding gowns and turns them into burial gowns for the tiniest little babies. There's not really a way to describe how perfect the little dress was. It was made by someone with alot of love, and from a dress that someone wore on their "day of love", and now it is worn by the little baby whom we love so much.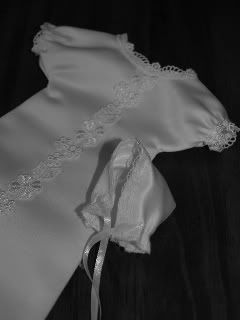 I cannot say enough about what an amazing organization Mary Madeline Project is! They shipped her dress so fast to ensure it was delivered on time. We will forever be grateful to Pam and Meredith for finding this organization and contacting them about Mary Grace, and especially to Carlin Kammerer from Mary Madeline Project who made sure that Mary Grace had a gown to wear. Just amazing, we are so thankful. The little dress is so small and delicate. I was feeling a little desperate before we had discovered Mary Madeline Project because it meant we would have had to bury Mary Grace in a baby doll dress.
While my friend went on a search to toy stores and did find a pretty dress, there was just something that didn't feel right about laying her to rest in a dress for a toy. So we were just floored that beautiful handmade dress were available for situations like ours. And we were so grateful, because when I saw the gown I knew that it was perfect. I know that it is to cover her little earthly body, but I also imagine Jesus holding her in heaven and she is wearing that beautiful, precious gown.