Today I cleaned out baby things to put away in the attic. I must be kidding myself with the six giant boxes of baby diapers that have been sitting in the extra bedroom for over a year now. It will be at least nine months at the earliest, God willing, before we have a baby in the house again, so why leave everything sitting around? It's just a sad reminder of the babies that weren't meant to be. I have babies in heaven, but they won't get to use these diapers or be swaddled in these receiving blankets, or rocked in this rocking chair, or play with these baby toys. Do you know how much stuff babies use? I have baby things tucked away in nearly every drawer, nook and cranny of this house!
The cut flowers people sent are all gone now, and the sympathy cards have been put up into Mary Grace's memory box. Everything is slowly being packed up and put away. It's hard because I wonder if I should be packing away my memories and "shelving them" somewhere in my brain.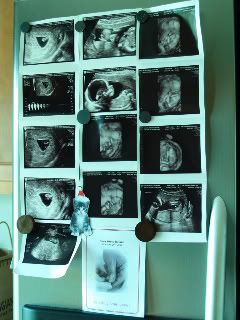 The one thing I just can't seem to take down yet is the collage of her ultrasound pictures that is stuck to the front of our refrigerator. When we first put them up we were the proud parents of a new little life who would make us a family of four! We walked by those ultrasound pictures and thought about the future; our hopes and dreams for our little daughter. Who would she be? Would she talk alot like Isabel? What would she be when she grew up? Would she be kind and cuddly as a toddler? What would she look like? Would she be born with a head full of hair?... I often walk through the kitchen and pause at the 'fridge and stare and think. So many thoughts of "what was to be" wrapped up in those black and white pictures. And now we look at those same pictures with the disappointment of what will never be. The sadness that we will never know who she would have become. We don't even know her hair or eye color. And yet those ultrasound pictures link us to her life. Those are the only pictures we have of her alive. I guess that's why every time I think about taking them down, I just can't do it yet. How do you put her life on a shelf? And yet at some point, I have to face the reality that that's exactly what will happen. I have to shelve the dreams I had for this little baby, because they weren't meant to be. They were good dreams, filled with love and joy and hope, but they weren't meant to be, and while I won't be shelving my love for her, I do have to put away my dreams for what her life could have been.